Providing Financial and Inspirational Support of Individuals and their Causes, Passions & Dreams
Everyone has a dream. What Matters was created to offer a variety of ways to encourage those brave enough to pursue theirs.
From supporting non-profit endeavors to helping those in financial duress, What Matters Outreach financially supports local causes as well as national and global altruistic efforts and passions.
In addition to financial support, encouragement and inspiration is offered to those who are working to make the world a better place or creating their lives to be more fulfilling.
Powering Passions
People wishing to fund a dream project or goal are encouraged to apply for assistance.
From paying the rent to help keep a roof over a small business to making a mortgage payment to keep a homeowner from going further into default, What Matters is proud to help passionate people pursue their dreams directly by providing financial support based on funding availability to those in need through an application process.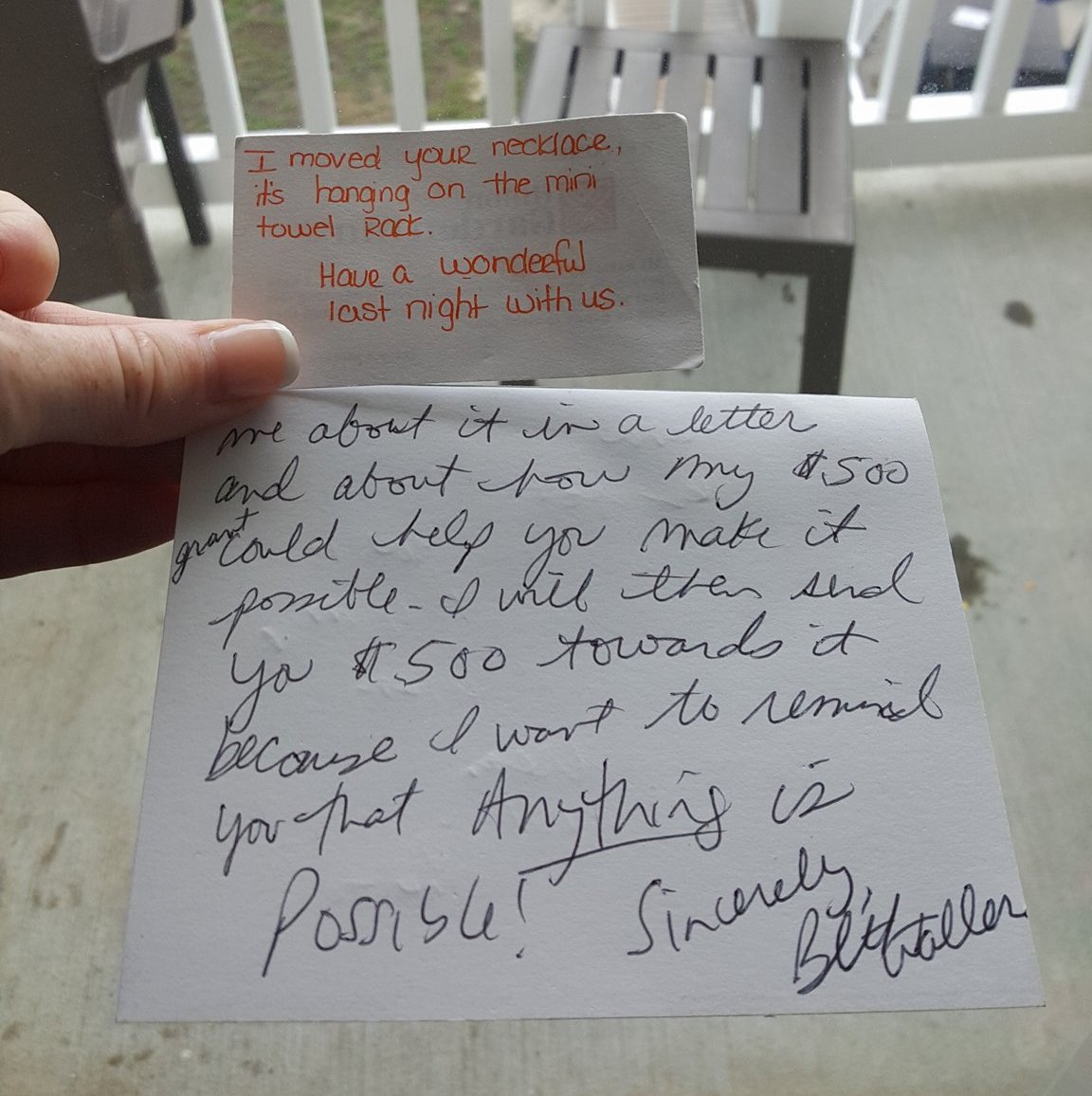 Invisible Hands
Hospitality workers, cashiers and service oriented employees put in a great deal of selfless work. These 'invisible hands'  provide convenience & comfort without looking for recognition.
As a way to thank these individuals for their quiet service, a little note is left for an unsuspecting "invisible hand" to find.
In the letter, they are asked to write to What Matters to describe a dream of theirs, and how they could use $500 to help pursue it.
A cashier's check for that amount is mailed after the letter is received.
Comrades for Causes
This initiative supports non-profit, not-for-profit and altruistic causes.
Supporting non-profit, not-for-profit and altruistic causes is at the heart of What Matters, since What Matters is your heart.
From complimentary videos to spread the word about altruistic endeavors to global financial contributions, What Matters also sponsors space at 27 Cloud Street in historic Front Royal, VA used to house CASA (Court Appointed Special Advocates for children) and the Front Royal Women's Resource Center offices.
Additional WHAT MATTERS Initiatives are listed below.
Scholarships/Grants
SCHOLARSHIPS:
Offering scholarships ranging from grants for high school graduates to scholarships for people to attend events or seminars.
What Matters offers scholarships ranging from grants for high school graduates to ScholArships for people to attend events or seminars.
Beth's scholarship program began in 2003 with the "Beth Medved Waller Hometown Scholarship" awarded annually to local seniors who submit essays about what growing up in Warren County has meant to them (to date Beth has given over $11,000 in such scholarships that have been renamed "What Matters Hometown Scholarships").
Additional Scholarships are given to help fund educational and experiential opportunities.
Wonder Women
This WHAT MATTERS Initiative offers women who need financial support to improve their housing situation a chance to receive a WHAT MATTERS interest-free loan for a security deposit for a rental property.  The full security deposit is given to the landlord and the "Wonder Woman" recipient agrees to pay the full amount back to WHAT MATTERS within one year or when they vacate the rental, whichever is first.  In addition to providing the security deposit, this WHAT MATTERS Initiative covers 10% of the monthly rent for up to one year.
Do YOU or Someone You Know Have a Need to Discuss?